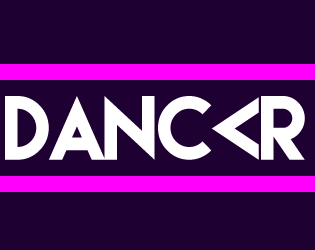 Danc<R - Prototype
A downloadable game for Windows
DANC<R
Version 0.1
---
About this application:
DANC<R (pronounced "Dancer" or just "Dance VR") is a virtual reality learning tool designed to teach you how to dance by letting you follow along with any pre-existing dance tutorials.
There is no scoring, no points, no beat markers, no multipliers, just you learning dance routines.
Warnings:
Please be mindful of your play area and cables to avoid injuries or damage to real-world objects. Make sure any real-world spectators are aware of your play area as well to avoid accidental injury.
How to use:
It is recommended that when starting the application for the first time you do so outside of VR. This is so you can paste in the videos you want to dance to into the bookmarks panel.
The video player supports both YouTube links and local video files. To add a path to a video into the main path or one of the bookmarks, find the path or URL to the video you want to use (As an example: C:/Users/Myself/My Videos/Routine.mp4). Once you find the path, copy the path into your clipboard by pressing the Control Key + C at the same time. To paste the path into the application, select the button you want to paste into and press the Control Key + V at the same time. Once pasted, the application will save the path and will not require you to re-paste once you exit.
You can turn the audience on and off by selecting the audience button in the "Etc." section of the menu. You can also hide the bottom bar completely (useful for streaming or making videos) by selecting the "Hide UI" button; to show the bottom UI again, click on the DANC<R logo at the top left of the screen.
Inside the headset, you have access to controls that let you slow down videos, skip through them, pause videos, and even switch the current video with one in your bookmarks. Please refer to the In-App Controls section for more details.
Your head and controller shadows are projected onto the screen to help guide your movements to mirror what's on-screen.
In-App Controls:
Left Wand:
Grip Button - Lock / Unlock controls
Top Trackpad (Pressed) - Stop current video
Left Trackpad (Pressed) - Rewind a couple seconds
Right Trackpad (Pressed) - Fast Forward a couple seconds
Bottom Trackpad (Pressed) - Play / Pause video
Right Wand:
Grip Button - Lock / Unlock controls
Top Left Trackpad (Pressed) - Show/Hide Video Screen (Music will continue to play)
Top Trackpad (Pressed) - Adjust video playback speed
Top Right Trackpad (Pressed) - Adjust volume
Bottom Left Trackpad (Pressed) - Stops current video and plays the previous bookmarked video
Bottom Right Trackpad (Pressed) - Stops current video and plays the next bookmarked video
Known Issues:
- When streaming videos from YouTube, if the video is monetized and an ad plays before the video, this might make the video unable to play. In this case, you can download the video from one of the many youtube-to-file converters online (I recommend http://www.onlinevideoconverter.com)
- Streamed videos may have some artifacts. Reloading the stream sometimes works.
- Backgrounds button does nothing. This is because there are no other backgrounds at the moment. Maybe next update. :)
- Lack of a file browser makes pasting video files cumbersome
- Users tend to confuse this tool for a game. It is not.
- The disembodied rabbit head occasionally consumes human souls. Please ignore any offers to exchange your soul made by the rabbit head.
Reporting issues:
If you have any issues or would like to suggest features, leave a comment on the game's itch.io page. I get notified immediately and will do what I can to help.
Additional notes:
I've found that videos from Dance Central work best. These can be found on IGN's channel, but can be found all over YouTube as well.
Remember to dance like no one's watching. :)
Install instructions
Download the DancVR.zip file, unzip, run executable. Enjoy!